World Youth Skills Day 2020 Observed by Ayudh Ahmedabad
World Youth Skills Day 2020 Observed by Ayudh Ahmedabad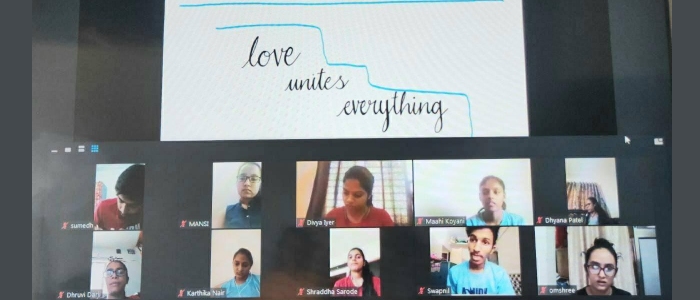 AYUDH Virtual Workshop on Calligraphy was organized by AYUDH Pune in connection with the World Youth Skills Day 2020.
The online workshop was conducted by Prasida, a digital artist from Singapore. 53 eager Ayudhians from Ahmedabad, Kolkata, Mumbai and Pune participated in the engaging session. Prasida taught the Ayudhians basic calligraphy skills. They had fun exploring the new skill. Each participant then chose an Amma quote dearest to their heart and wrote it using calligraphy.
The youth were completely engaged in the arts. They expressed joy along with their creativity and gave enthusiastic feedback about the session. All participants will be using the skills they learnt to make a quote book with Amma's quotes and will be participating in the contest announced for this week.
It was a great time for Ayudhians to interact and share Amma's messages with each other !!