AYUDH (Awaken Youth; Unite for Dharma) is the youth wing of Mata Amritanandamayi Math aiming to use the powerful force of young people to perpetuate natural harmony, social justice, and personal empowerment.
Address : Mata Amritanandamayi Math, Raipur
EVENTS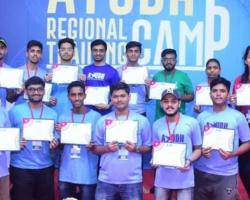 AYUDH Regional Training Camp was conducted at Mata Amritanandamayi Math. More than 200 youth from the Maharashtra, Gujarat, Rajasthan, Goa, Chattisgargh & Tamil Nadu gathered in the AYUDH Regional Training Camp to shape their goals for the future of a peaceful world.