WHO WE ARE ?
Together We Can Make a Better World !!!
AYUDH stands for Awaken Youth; Unite for Dharma, founded on 1st September 1985 is the international youth movement of Mata Amritanandamayi Math. AYUDH seeks to empower young people to integrate universal values into their daily lives. Starting with themselves, AYUDH aims to help establish a future of hope, peace and social engagement.
In Sanskrit the AYUDH "the youth which perpetuates the wheel of Dharma ( righteousness)". In Sanskrit AYUDH also means peace, which is symbolised by the dove in the logo. AYUDH tries to make the younger generation aware of the importance of spirituality in one's day-to-day life, and about the importance of assimilating and putting positive values into practice.​
WHAT WE DO ?
Social Service
Through voluntary engagement AYUDH (Awaken Youth; Unite for Dharma) wishes to contribute to the upliftment of local communities.By putting compassion into action we want to the starting point of change.
Some of the projects we undertook include
Distribution of school kits, clothing, food etc. for deprived ones.
Disaster relief operations.
Samyaanam - Anti drug campaigns.
Blood donation campaigns.
Awareness campaigns.
Intercultural Exchange
AYUDH helps building bridges between youth from different cultures, religions and social backgrounds. It provides a global network of young people who share the ambition to create a better world.
Some of the activities we conduct include
Annual national & regional youth meets.
Youth camps and retreats.
Billion Tree Campaign.
Collaborative projects with people across the globe.
Visits to villages across india
Green Friends
Green Friends is the international environmental initiative that promotes environmental awareness and participation at the individual and community level. The goal of this initiative is to build a generation that is more aware and sensitive towards mother nature and our environment.
Some of the projects that are being carried out include
Amala Bharatam Cleaning Campaign.
Disaster relief operations.
Billion Tree Campaign.
Organic Vegetable Cultivation.
Composting and Natural Farming Workshops.
Personal Empowerment
AYUDH (Awaken Youth; Unite for Dharma) provides youth with the opportunity to acquire skills in project management and international teamwork. Our programmers help young people to develop and express their creative and innovative potential, gain inner strength and balance.
Some of the activities we conduct include
Leadership programmes.
Workshops in music, dance, arts and drama.
Talks and discussions.
Yoga and awareness programmes.
Integrated Amrita Meditation(IAM) classes.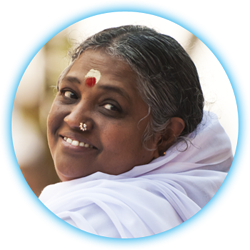 " Work fearlessly-that alone will bring success. This road ahead will reveal itself. Courage should guide us,not fear. Then, boldness, intelligence and talent will shine forth of their own accord"
- - - AMMA