AYUDH Youth Meet at Baneshwar
AYUDH Youth Meet at Baneshwar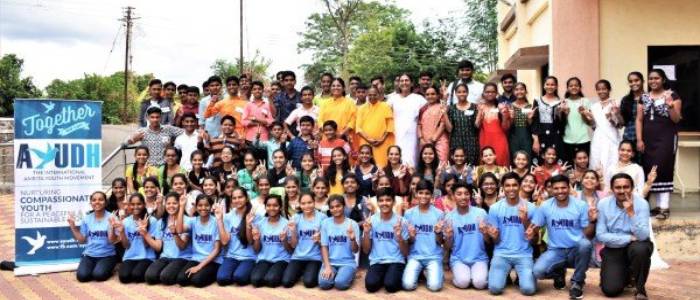 AYUDH Youth Meet at Baneshwar, Pune was a great opportunity for the newly registered members in AYUDH to interact with their senior AYUDHians and to learn new things. The participants were excited to hear about the highlights and global achievements of AYUDH from the National Coordinators at Amritapuri.
Dr Priya Rajesh Nair, Ayurveda Doctor spoke about the importance of understanding the connection between mental and physical health and how to strengthen the immune system. Being a meditation trainer, Dr Priya Nair could present well on how to integrate the spiritual practices with the daily route for the overall well-being. It was also an exlusive training session to AYUDHians on how to conduct their own AYUDH workshops in future.
During the Youth Meet, they played the Fun Learning Game together for testing awareness which was an amazing learning and team-bonding experience.
They also learned a lot from the interesting and mind-blowing Quiz session on Sanatana Dharma & Indian Culture.
During the Meet, AYUDHians planned their future activities and projects for the year.