AYUDH Volunteers Helped at Inauguration of Amrita Hospital, Faridabad
AYUDH Volunteers Helped at Inauguration of Amrita Hospital, Faridabad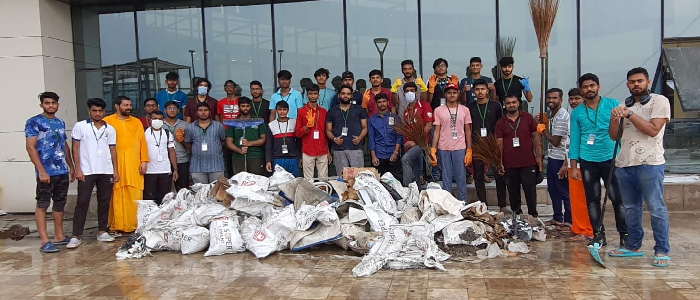 Amrita Hospital Inauguration at Faridabad has given a magnificent opportunity for the AYUDH volunteers to do seva prior to the inaugural function. Swami Amritaswarupananda Puri, President of Amrita University and Vice Chairman of M A Math addressed the volunteers, appreciated them for their good work and inspired them to make use of this great opportunity and continue the seva with a smile on their face. Swamiji also interacted with the youth.
As part of two weeks Internship, they also have been taking part in group activities, yoga, inspirational sessions and service projects in Faridabad. Above all this was a rare opportunity for our volunteers to attend Amma's program every day and for getting Amma's graceful blessings.
During seva, volunteers are learning the importance of team management, values for life including positivity, cultivating love and compassion, making sacrifice, serving with the smile and having concern for society and environment.
Yoga sessions helped them to get relaxation to the body and mind and provided good health to continue with seva
The group activity sessions contained the orientation, interactions, games and senior faculty's experience sharing.
"It was an amazing experience. It took us to another world and the orientation was a wonderful opportunity to interact with the rest of the volunteers from other campuses and states. Thank you for this opportunity. We are having great days in Faridabad . Day is beginning with Swatch bharat and remaining hours we are engaged in other sevas and activitties. Enjoyed Amma's bhajans and Darshan was a unique experience", remarked the volunteers.
Tags:
2022