Ayudh Self-Management Workshop at Bhubaneshwar
Ayudh Self-Management Workshop at Bhubaneshwar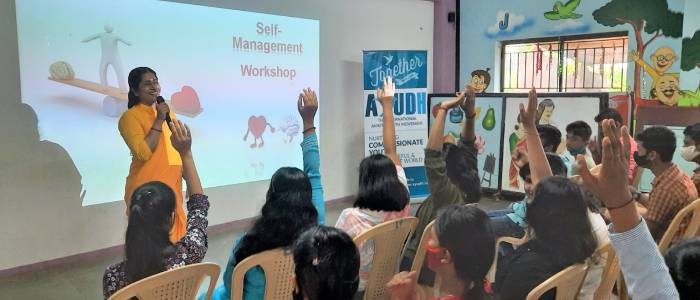 Ayudh Self-Management Workshop at Bhubaneshwar, Odisha saw active participation from the vibrant youth. The workshop was conducted by the AYUDH Coordinators from the National Coordination Committee at Amritapuri.
During the workshop, the speakers emphasized the importance of understanding the basics of Sanatana Dharma and reflecting those principles in thoughts, words and actions which will in fact bring the real success in one's Life! The youngsters learnt that an array of values for life including positivity, cultivating Love & Compassion, making sacrifices, serving with a smile, having concern for the society and the environment all have the roots in Sanatana Dharma. The Meditation and Singing together for the World Peace were thoroughly enjoyed by the participants and they said, "It was an opportunity for us to realize that true happiness and peace is found only when one dives within and such practices re-charge the minds with enthusiasm and energy"
The workshop also provided an orientation to AYUDH. Brahmacharini Namratamrita Chaitanya, in-charge of Amrita Vidyalayam Odisha appreciated the participants for choosing the right platform for their inner growth. All the new members registered with AYUDH and said that they are excited to look forward to learn and serve through AYUDH. The workshop ended with prize distribution for the online contests that the Ayudhians participated in during the pandemic. The AYUDH core team shared their experience and welcomed new Ayudhians to the team and announced their new coordinators for the year.
"The workshop was excellent. We learnt so many good things. I am very fortunate that I am part of AYUDH. This is the right platform to learn and serve" remarked Ms Keerthi Erapu, from Jatni college, Odisha
"The workshop was a great experience. Our heartfelt thanks to the Amritapuri team. We really enjoyed and learned good values. I am happy that, through AYUDH, I can continue my association with Amma and Amrita Family even after passing out from Amrita and continue learning and practicing the right Dharma", said Mr Simran Khuntia from Amrita Vidyalayam, Odisha