The AYUDH Mumbai Team Conducted Interactive Session for New Members
The AYUDH Mumbai Team Conducted Interactive Session for New Members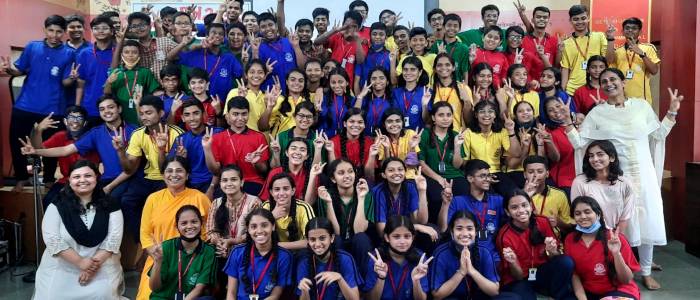 The AYUDH Mumbai team from AV got together with so much energy and enthusiasm to do the group activities. This was an exclusive session only for the newly registered members of AYUDH at Mumbai. The participants said they are so inspired to hear about the Highlights and global achievements of AYUDH and extremely proud to be part of it.
The interactive sessions, games and environment activity once again emphasized upon the fact that, AYUDHians always lead by example and instil inspiration to other youth through their good deeds. The event helped AYUDHians to bond together and serve together. It spread good will and made the act of giving more satisfying for everyone.
Amma says, "There is an inseparable bond between man and nature. For man, there cannot be an existence removed from nature". In order to experience this loving bond, AYUDHians made planters from waste plastic bottles and planted saplings and took them home to nurture with love. The planter was a good model for plastic recycling and water conservation.
AYUDHians have proved that, even with all the constraints of city life, where no land is available for gardening ,if you have determination, it is still possible to do planting and vegetation.
"I am so excited that I could spent some quality time with all AYUDH members. It was an incredible experience joining AYUDH team and had a great time with my friends. Also we contributed towards the environment by planting a sapling and we are now looking forward for more such events not just to create positive experiences for us, but also to set an example that how much a united team of youngsters can do. Overall I am glad that I joined AYUDH team and hope to work with all in future too. Thank You for this incredible experience. I am Proud to be an AYUDHIAN", said Mr Amrit Tiwari.
"It is really an honour to join AYUDH in this age. I am so impressed with the sessions, on the first day itself, we were taught to serve Mother Earth. A big thank you to the organizers for this wonderful opportunity to learn and serve", remarked Ms Aastha Anchan
"It was the first and will be one of the BEST experiences in my life. I am so happy that I got an opportunity to join AYUDH. I got to learn something new from the events. I enjoyed the time and I am proud to be a young AYUDHian", remarked Ms Shruti Botre.
"I enjoyed the events a lot and learned many things from the sessions and activities. From now I will be definitely part of AYUDH and will be an active member too. We are so proud to say that we are AYUDhians", remarked Ms Ridhi Shetty.
"I had enjoyed lot and I had learnt so much of things from AYUDH sessions. We played some games which will be memorable in my life and the fun and knowledge that I had, I will never forget in my life", said Mr Aditya Manjrekar