AYUDH Mumbai Observed World Antimicrobial Awareness Week
AYUDH Mumbai Observed World Antimicrobial Awareness Week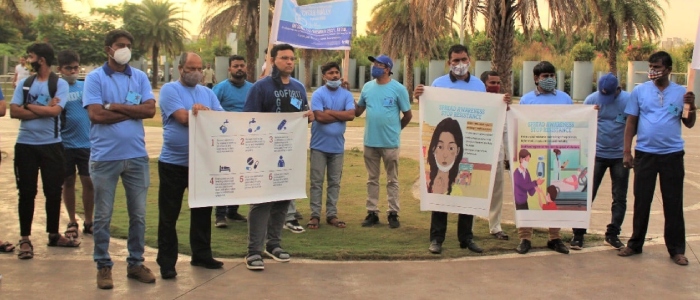 AYUDH Mumbai cycled against AMR in observance of World Antimicrobial Awareness Week as declared by the WHO (World Health Organization), to Go Blue for AMR to spread awareness about the threat of Antimicrobial Resistance.
The event was flagged off at Jewel of Navi Mumbai by NMMC officials, Shri. Girish Mhatre and Shri. Kashinath Pawar. Around 60 cyclists, attired in blue, as per the Go Blue theme, then rode off, shouting AMR related slogans, carrying placards and distributing small informative booklets to the general public.
After finishing a stretch of 4 km, the participants attended the culminating event at the Brahmasthanam, Nerul, Navi Mumbai. The special invitees were Dr. (Mrs.) Meeta Saxena, HOD, Physics, Sophia College, Mumbai and Dr. (Mrs.) Radha Srinivasan, Professor, Dept.of Physics, Mumbai University. AYUDH members gave an inspiring presentation on the hazards of Antimicrobial Resistance. They took pledge to be an AMR Warrior!! A visual presentation of AYUDH activities worldwide was also shown to new volunteers.
The special guests commended AYUDH for their wholehearted efforts and exhorted AYUDHians to take up other socio-humanitarian projects.
"We are so happy that we could organize this awareness campaign in Mumbai which is the need of the hour. We will definitely continue with these efforts and by Amma's Grace we will be able to spread more awareness about the threat of AMR to the public," said Ms. Shivali Mhatre, AYUDH Coordinator, Mumbai.
The event concluded with a vote of thanks, and refreshments.
Tags:
2021
,
Maharashtra
,
Mumbai