Ayudh Kolkata Celebrates World Environment Day
Ayudh Kolkata Celebrates World Environment Day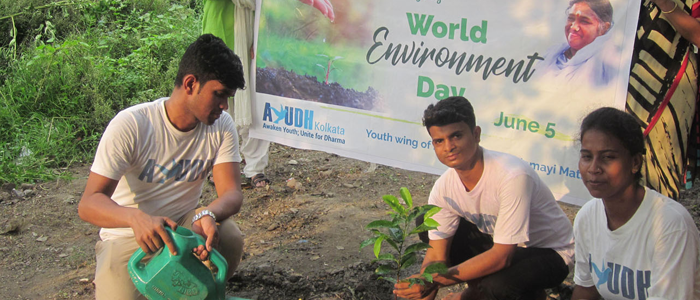 In tune with the theme set by the UN for 2019, Team Ayudh Kolkata strived to make a difference and do their bit towards controlling the negative effects of air pollution.
The Ayudhians gathered on side of Budge budge trunk road where the importance of preserving the green cover around us was stressed upon. The youngsters were enthused after they were explained the positive impact the trees will have on their collective future.
Everyone was presented a sapling and with great enthusiasm the event commenced. During the activity, the youngsters bonded with their saplings and everyone took selfies once the mission was accomplished.
The Ayudhians went home having learned the need to nurture mother earth, and a renewed streak of optimism for the future.
AYUDH is an international youth movement guided by Sadguru Sri Mata Amritanandamayi Devi – a world renowned humanitarian and inspiration for the humanity to love nature. AYUDH is dedicated to empowering young people to contribute to a peaceful and sustainable world and become compassionate leader with a sense of tolerance, solidarity and global responsibility. The remarkable achievement of AYUDH is we are member of UN billion tree campaign