AYUDH Jaipur Organized a Bicycle Rally in Connection with World Antimicrobial Awareness Week
AYUDH Jaipur Organized a Bicycle Rally in Connection with World Antimicrobial Awareness Week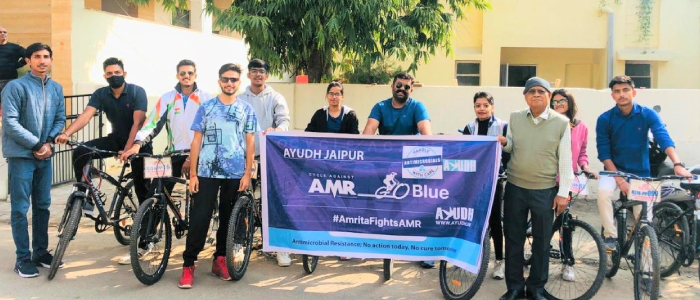 Go Blue at Pink City! AYUDH Jaipur members organized a bicycle rally in connection with World Antimicrobial Awareness Week, WAAW2021 declared by World Health Organization (WHO)
The team cycled from Patrika Gate to Jaipur Airport, spoke to the shop people and to the public about the threat of AMR. They also educated their family members and neighbors about the the same.
Although millions of people are affected by antimicrobial resistant infections every year, few have heard of it. All the AYUDH chapters across the world joined the School of Biotechnology from Amrita University in this world wide campaign to Go Blue for AMR to spread awareness about the threat of Antimicrobial Resistance during WAAW awareness week (18-24 November) with this year's theme 'Spread awareness, stop resistance'.
"We are very happy that we could spread awareness about AMR. Common people are not aware about the seriousness of this. People in the city appreciated us for this efforts. This is not meant just for a day or one week. So we will continue our effort to bring awareness in people by visiting the houses, shops, hospital, schools etc. and make them aware of the seriousness of AMR and solution to this" said Mr Kush Sharma AYUDH Coordinator from Jaipur who is doing his masters in Rajasthan University, Jaipur.
AYUDH, or Awaken Youth; Unite for Dharma is the International Amrita Youth Organization aiming to use the powerful force of young people to perpetuate natural harmony, social justice and personal empowerment. AYUDH chapters in all states across India and in other countries including America and Europe organized the Bicycle rally on the same day and have been conducting the awareness campaign.
Tags:
2021
,
Jaipur
,
Rajasthan