AYUDH Delhi NCR Conducts Anti Microbial Awareness Drives
AYUDH Delhi NCR Conducts Anti Microbial Awareness Drives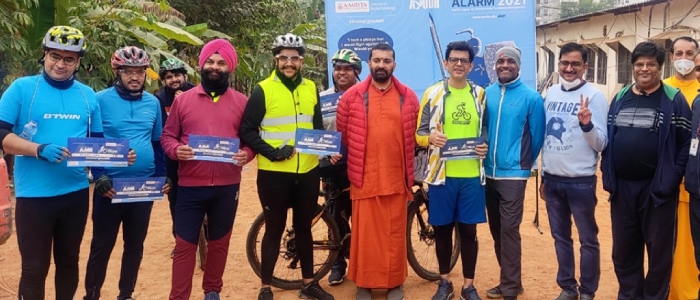 Anti Microbial Awareness Drives conducted by Amrita Hospital Faridabad and AYUDH Delhi NCR. Many people participated in AMR Warrior contest organized by Amrita School of Biotechnology, Amritapuri.
Doctors from Amrita Hospital Faridabad conducted Public Awareness sessions on Anti Microbial Resistance, in connection with the World Antimicrobial Awareness Week (WAAW2021) declared by World Health Organization (WHO) from November 18 to November 24.
Go Cycling for AMR awareness Program- AIMS Faridabad, AYUDH Delhi NCR volunteers in action on Sunday Morning.
AMR - Anti Microbial Resistance 2021
To raise awareness about Antimicrobial Resistance (AMR), AYUDH Delhi NCR volunteers participated in cycle rally, AMR campaign on November 21, 2021.
The drive was a part of ALARM 21 (Amrita Legion for Antimicrobial Resistance Management). The initiative was spearheaded by Amrita School of Biotechnology.
Over 50 members of AIMS Faridabad and AYUDH were a part of Cycle Against AMR. The volunteers – armed with placards and banners – covered a distance of 10 KM around AIMS Hospital site.
The event was collaboration between World Health Organisation and Amrita School of Biotechnology, Amritapuri. AYUDH is the youth wing of the Mata Amritanandamayi Math. It is dedicated to empowering young people to perpetuate natural harmony, social justice and personal empowerment.
Tags:
2021
,
Delhi