Ayudh Celebrated Independance Day in Faridabad
Ayudh Celebrated Independance Day in Faridabad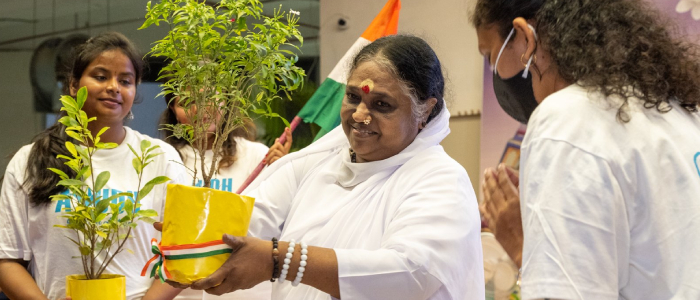 AYUDH volunteers from all states of India who have gathered in Amrita Hospital, Faridabad to offer their seva for Amma, celebrated Independence Day in a grand way !! They planted 75 saplings in the memory of 75 freedom fighters who have laid down their lives for the Nation.
Amma handed over the first 9 saplings to our AYUDH volunteers and bless this noble venture.
A name board also was placed next to the sapling displaying the name of the freedom fighters. The program encouraged AYUDH volunteers to remember the sacrifices done by the our freedom fighters becasue of which we have been enjoying the freedom for 75 years and also towards caring to nature.
They will be continuing with the plantation of more than thousand saplings in the hospital premises in the upcoming days.
Swami Amritaswarupanda Puri initiated the day's ceremonies at the new #AmritaHospital in Faridabad, Haryana. Inspector Mohan Lal Sharma with the Central Reserve Police Force (CRPF) hoisted the flag in the presence of paramilitary and other security personnel.
People who are preparing the hospital for its opening on August 24th gathered to pay their respects to India's flag, sing the national anthem, and pray for the wellbeing of all.
"75th independence day celebration here in faridabad, was a surreal experience. The blend of discipline and involvement that we got to experience here yesterday boosted our morale. And the planting of saplings was great, service for generations to come. To have been able to celebrate Independence day at the abode of service, Amrita Hospital Faridabadh the largest private Indian hospital is a once in a life time opportunity and we are grateful for the same.", said the AYUDH volunteers.
Tags:
2022