Ayudh Bhubaneswar Chapter Volunteers Observes World Environment Day
Ayudh Bhubaneswar Chapter Volunteers Observes World Environment Day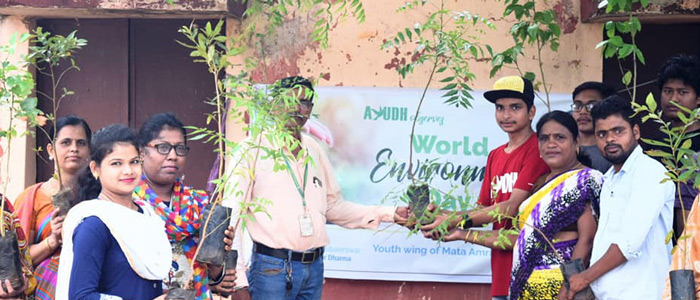 "Plant a tree, Plant a hope for future",
A tree plantation drive by AYUDH Bhubhaneshwarchapter, on world environment day'.
Inspired by the UN Environment Day theme Air pollution and in a bid to restore green cover in the state capital post cyclone fani, Ayudh Bhubaneswar chapter tried to make a difference on this world environment day by organizing a tree plantation program at Dumduma in Bhubaneswar.
Varieties of evergreen cyclone resistant and tropical trees such as bawla (Spanish cherry), chatian, Ashoka, neem, large pulpy fruited tree like jamun (black plum) were planted in and around the field near Sai sisumandir School. The headmaster, teachers and the students of the school also joined in the plantation program. Ayudh volunteers demonstrated on how to plant and students planted the saplings. After the plantation was done the volunteers explained the students about the importance of tree plantation to reduce Air pollution and asked them to take care of the saplings. The headmaster gave a short speech and urged all to plant at least one tree in their house.
Amidst several crusades including tying bands to the trees, naming the trees, Ayudh Bhubaneswar chapter planted saplings and organized this event to protect and conserve trees. AYUDH wishes a greener and safer environment for future. The primary motive was to create awareness and promote sustainable and safer environment by inculcating love for nature and to encourage the youth to stop blaming others for all the problems but rather to take initiative and to come together as concerned citizen and as one team , and actively work towards a greener and cleaner Bhubaneswar. The day was observed with great enthusiasm.
Tags:
2019
,
Odisha